The longer you have had your Hills rotary clothesline, the harder removal will be. This is because your clothesline has been putting in the hard yards in all kinds of weather and so has the handle.
Stay safe by protecting your eyes when removing and replacing plastic components.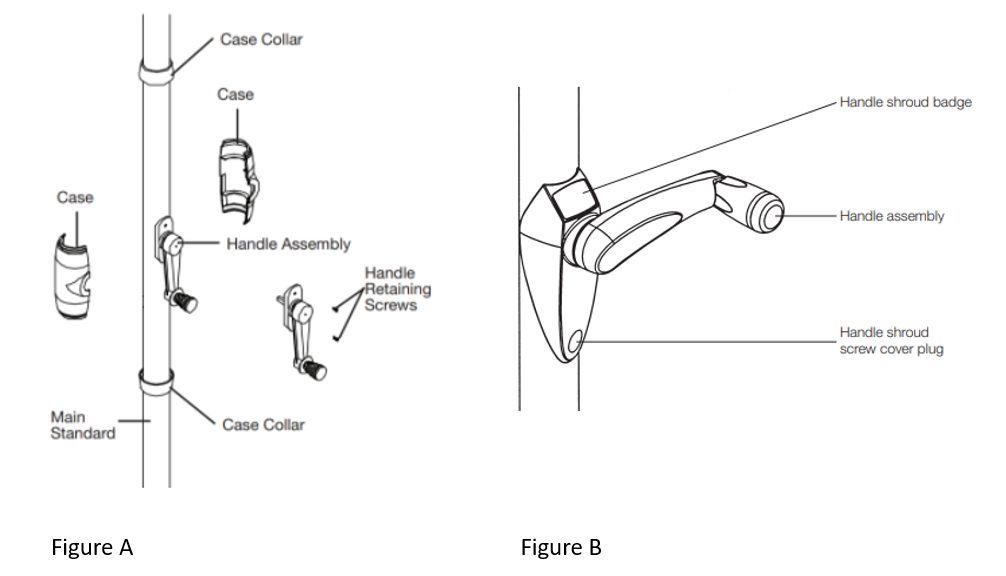 Everyday Rotary Handle Assembly Hills Handle Assembly for Rotary Clothesline
Nitty-gritty.
These handles are often held on with two screws and then a pinion going into the main gear drive. Don't really know what that means? Read on for more detail.
Undo the two screws and then slowly pull the handle out horizontally so the gear drive comes free.
Screws won't move or handle won't budge? Apply some warm water or a lubricating oil (like WD-40) around the handle.
Please note, if replacing the handle in Figure A, the replacement handle is slightly different to the original one therefore the outer case will no longer fit. This will not impact the performance of the unit in any way. The case is more for aesthetics.
Steps
To remove:
Wind down the Hoist to its minimum height
Fold up the Hoist
Wrap the line retaining strap around the hoist, to prevent lines from becoming tangled.
With a screwdriver, gently pry off the handle shroud badge cover and bottom screw cover plug from handle shroud.
Undo the handle screws and remove the handle from Hoist.
To replace:
1. Fit the new handle assembly to the Hoist using new screws supplied.
2. Fit new handle shroud badge cover and bottom screw cover plug to handle shroud.
Time to buy a new handle? Check out the Everyday Rotary Handle Assembly online as per Figure A or check out the Hills Handle Assembly for Rotary Clothesline online as per Figure B.